Struggling for something to do this weekend? Not to worry, we have the perfect solution. Located just minutes away from Mann Island, the FEAST festival will be taking place from the 7th-8th September at the Albert Dock. Home to live music, DJs, activities and plenty of food, what more could you ask for?
Beginning on Saturday from 11am, the dock will be split into 5 sections; the Anchor Courtyard, Inner Quay, Mermaid Courtyard, Floating Stage and the Hartley Quay - all hosting their own unique experience.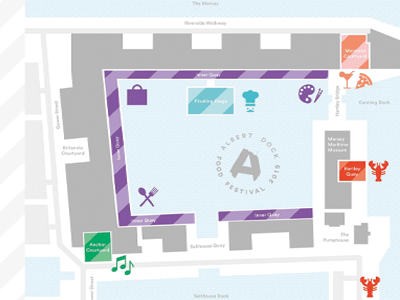 Albert Docks FEAST Food Festival (Image source - AlbertDocks.com)
The Anchor Courtyard will feature a DJ, as well as plenty of food and drink stalls - meaning the green area is where the party is at! If you're not one for live demonstrations and would rather sit back and enjoy a drink with the sound of upbeat music playing in the background, then the Anchor Courtyard is where you need to be over the weekend. No matter your preference on food they are sure to have something for you.
The Inner Quay is one for the inquisitive, as surrounding the dock will be a variety of lifestyle stalls to visit - not to mention the chance to Meet The Makers and watch live entertainment. Most importantly, what we are all here for, a selection of food and drink to accompany you whilst you do your rounds of the dock. 
If you fancy getting hands-on and keep the kids entertained, then head to the Mermaid Courtyard. With a range of arts and crafts to get involved in, 30 minute children's pizza workshops and storytelling with Story Barn, the Mermaid Courtyard is certainly somewhere to keep the younger ones busy. The Sunday, however, offers a slight change, saying goodbye to the pizza workshops and hello to a Revolution Cocktail & Gin Masterclass.
Starting a little later than all other attractions, the Floating Stage will begin from 1pm on Saturday, with a chef from each of the docks' well-known restaurants taking to the stage to take it in turns to present live demonstrations every hour beginning with Rosa Thai, Maray, Gusto, Lunyalita and last but not least, TATE Liverpool. The Sunday will see a twist, with a takeover from Belling Kids with their live cookery classes. 
Finally, the Hartley Quay, from Saturday to Sunday will be packed with 1-hour performances from the Lobster À La Carte. 
Where will you be over the weekend? Relaxing with a G&T in hand by the Anchor Courtyard or taking notes on how to create a dish as good as those served on the dock by the Floating Stage? Wherever you are, make sure it's at the FEAST festival - with free entry, it's one not to miss.
If a food festival isn't your kind of scene, then there's plenty more coming up at the Albert Dock, from football to quizzes and art exhibitions, all minutes from Mann Island. If you'd like to keep up to date with what's going on in and around Mann Island be sure to follow us on Instagram, Facebook and Twitter. If Mann Island is something you'd like to a part of we have apartments available to rent now. Head to our properties to let page to find out more.